Purchasing airtime instead of withdrawing cash from a Mpesa agent shop or when you were supposed to send money urgently are among the many potential mistakes Safaricom customers make. I have seen many, especially those 'whose years have moved.'
Don't you know that when you are aging, your brain memory withers? Don't fret a little – how can you convert this Safaricom airtime that you bought unintentionally back to cash? You might think it's impossible, but there are many apps giving cash for airtime already in the business. There is the Airtime 2 Pesa app, Olickhom, BambaSwap, DBS, and more. Many more.
But here is the doomsday question: Which is the cheapest app for exchanging airtime for cash in Kenya? That is Olickhom app. It has the lowest rates of them all:
Why the Olickhom credit conversion app?
Firstly, because it is available on Google Play, you can convert the excess Safaricom credit airtime to real money to Mpesa on all mobile phones running on Android OS, the most used operating system in the world.
The second reason is more important, especially to your pocket. With the Olickom app, you exchange Safaricom airtime for cash at the lowest rate (20%) in the market in Kenya, as other companies put it at 30 percent.
Further, the minimum airtime you can convert to cash sent to your Mpesa per one Safaricom SIM card per day is Ksh20, while the maximum is Ksh10,000. When you download Olickhom and exchange Ksh5,000 of airtime value for money, you will get Ksh4,000 cash. So, how can you convert airtime to cash cheaply online?
How to cheaply convert airtime to Mpesa cash in Kenya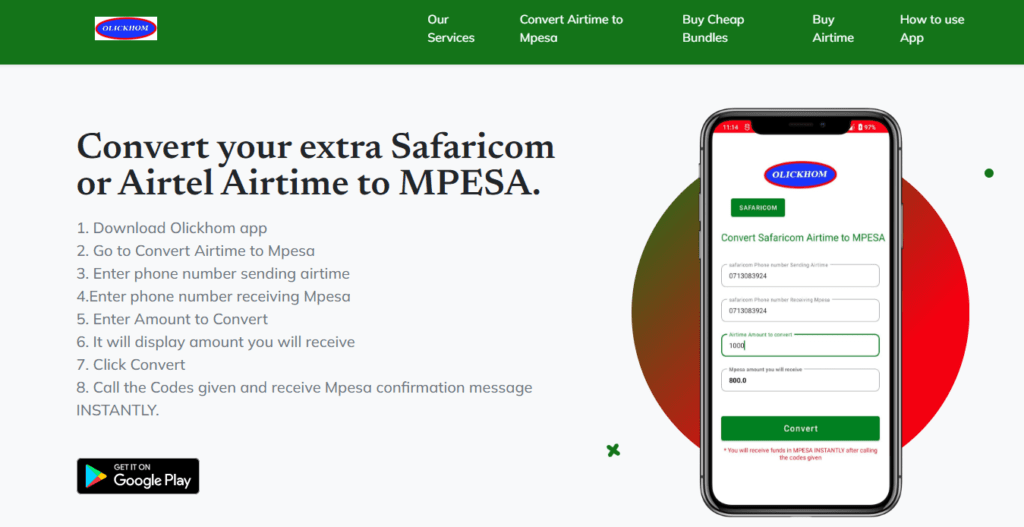 Follow these steps to convert your Safaricom airtime back to cash in your Mpesa wallet using the Olickhom app. You can also convert for other lines, Airtel and Telkom;
Get the Olickhom app on the Google Play. After installing the airtime to cash conversion app, please open it
On its homepage, go to 'Convert Airtime to Mpesa'
Choose your mobile operator as either Safaricom or Airtel
Enter the Safaricom airtime amount you wish to convert between Ksh20 and Ksh10,000
It will display the amount you will receive as cash sent to your mobile wallet Mpesa after conversion
Click 'Convert'
Click 'Proceed'
Dial the Codes given to give away the excess airtime as you wait for the Mpesa confirmation message
After less than 3 Minutes, you will receive an SMS notification of successfully converting your Safaricom airtime to money and receiving it on Mpesa or Airtel Money if you are on the Airtel line.